361 Capital Weekly Research Briefing
December 24, 2012
Timely perspectives from the 361 Capital research & portfolio management team
Written by Blaine Rollins, CFA

Santa's reindeer for Christmas: Dasher, Dancer, Prancer, Vixen, Comet, Cupid, Donner, Blitzen and Rudolph.
Blaine's reindeer for the Markets: Mario, Cliff, Bond, Junkie, Dax, Po, J.P., Bob, Goldie, Oily, Sully and Felix.
Mario the Reindeer
Without a doubt, the Superman of the financial markets in 2012 was Mario Draghi. While Europe was dealt a very bad hand in 2011, Mario played them well and instilled much confidence into the European markets which rolled over into the rest of the global markets. Just look at the improvement in the 10 year Greek and Italian bond yields from their worst levels. Almost 2000 basis points in Greece and almost 300 basis points in Italy. If it wasn't for this move in the European bond markets, very few would have a positive return on their investments in 2012. But don't take my word for it; the Financial Times also picked Mario as their Reindeer of the year. (FinancialTimes)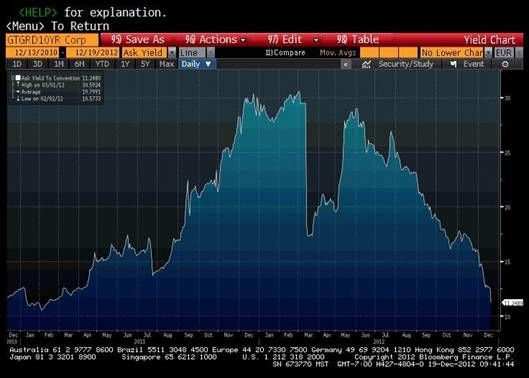 Cliff the Reindeer
I would be lying if I didn't admit that I wasn't keeping an eye on the Fiscal Cliff. There is clearly no way to avoid its current importance to the markets. While I keep telling myself that there are rational heads in Washington, D.C., their actions continue to prove me wrong. When push comes to shove, something will eventually get done. In the meantime, we can continue to remind ourselves how bad the economy will get the longer this poker game drags on.
Bond the Reindeer
While most of us cheered for an aged James Bond in the recent Skyfall, for risk investors, we would all enjoy watching Treasury Bonds and Notes retire and move to Florida. It is time for investors to become risk loving and not risk adverse. A stronger, growing economy will help move investors out of Treasuries and into everything else. Onward and upward.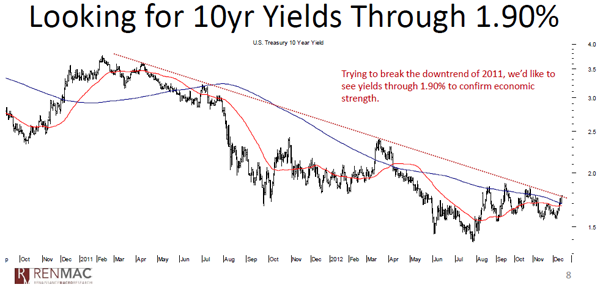 Junkie the Reindeer
Junkie has been clean for 4 years and now everyone wants to ride with him. Purchases of Junk Bonds in 2012 have been so strong that it has gotten difficult telling the difference between a junk yield and an investment grade yield. The 2nd chart below is extremely telling. If another lengthy economic slowdown hits, then junk bonds will get plastered. But as long as the economy continues to inch forward and investors are hungry for risk (and yield), the strength in junk bonds will be wind at equities back.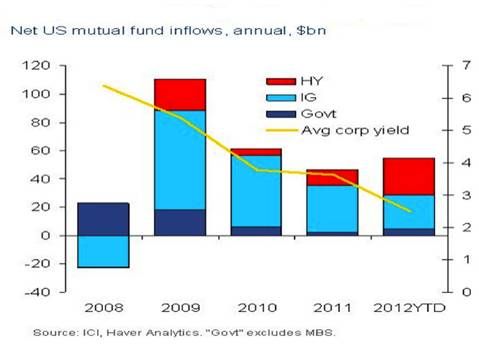 (Matt King, Citi via BusinessInsider)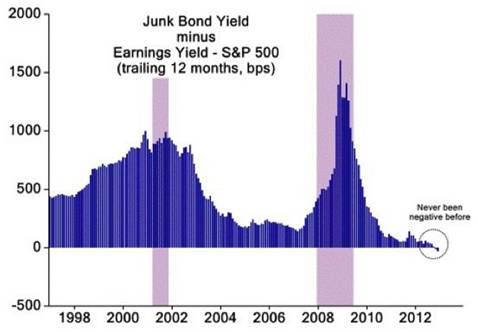 (David Schawel via Business Insider)
Dax the Reindeer
German citizens may not like being the checkbook of Europe, but at least their stock market put up the best performance of the major global equity markets rising 30%+ in 2012. Congrats to all the International Portfolio Managers who were overweight the country (and not just for the research trip to the Porsche test track in Weissach).
Po the Reindeer
Named of course for his black and white coloring, insatiable appetite, and love of AC/DC. Seriously, 5 years of underperformance versus the global markets. Is this finally the bottom? Does the government have control of the right levers? I hope so because the world could really use your growth engine to turn on again.
(ISI Group)
J.P. the Reindeer
With the wind in its face, the XLF/Financial ETF has still gained 30% in 2012 to lead the major market sectors. According to several issues of Rolling Stone in 2012, the world continues to really hate banks and bankers. Bank human resource departments might even need to resort to offering Twinkies to get recent grads to apply for job interviews. Also two new cheerleaders to add to the banking industry glee club, Elizabeth Warren and Maxine Waters. Jim Rogers used to drive around the world in a modified Mercedes looking for the most dangerous markets to invest in. For his next drive, he might only need to go down to the local Citibank branch drive thru window. This contrarian play is setup to once again outperform in 2013.
(Goldman Sachs via (BusinessInsider))
Bob the Reindeer
Homebuilders/ITB are hammering home an 80% gain YTD thanks to the continued absorption of the existing housing stock and 5 years of low capacity additions. Meanwhile, with Apartment Rents > Housing Costs, the housing industry has gained another secular growth driver until the apartment industry overbuilds itself. Take note of the lumber chart below and its confirming strength. When/If the U.S. economy hits its stride and housing builds return to more normal levels, there will be many housing input charts that look like lumber.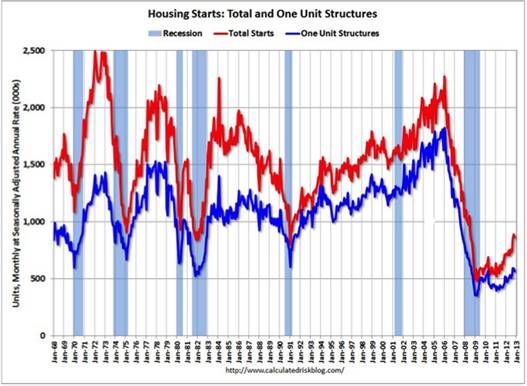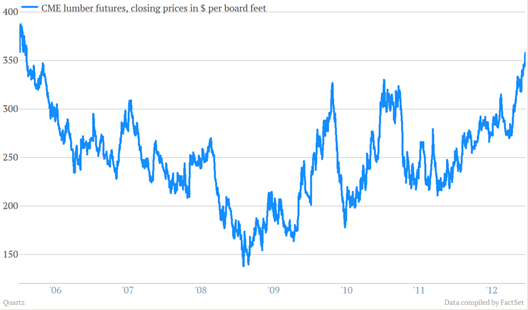 Goldie the Reindeer
After an incredible 10 year run, Gold decided to take a rest in 2012. At the same time, the commodity became a favorite of many institutional and retail investors. (Need to see another Gold advertisement?) So the question now is was 2012 just a rest stop like 2008? Or will investors' next move be to reallocate into a higher risk, cash flowing security?
Oily the Reindeer
Oil Geeks Rule! Seriously, repeat to yourself 3 times, "American Energy Independence". That has a nice ring to it. More importantly, creating the cheapest source of fuel in the world will not only drive U.S. energy industry job growth, but it will lead to the growth of every industry that uses Natural Gas and Oil as an input. And growth of petrochemical, industrial, fertilizer, LNG export and other jobs will lead to job creation across the rest of America.
@PeterGhostine: For 1st time in 2012 – all 50 states have gas below $4. (Hawaii has the nation's highest price at $3.98. Missouri the lowest at $2.96)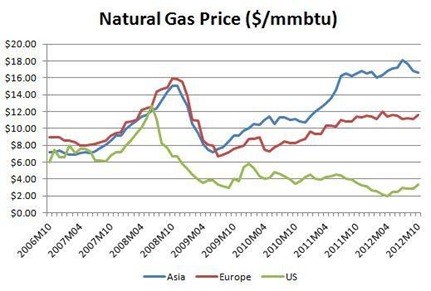 (EIA)
Manufacturers have announced more than $90bn worth of investments in the U.S. to take advantage of its cheap natural gas, according to new calculations, underlining how the shale revolution appears to be driving the country's industrial renaissance. Petrochemicals, fuel, fertilizer, and steel companies are among those that have committed to or are considering multi-billion dollar investments based on their ability to source cheap energy and feedstocks. The U.S. investment boom has caused concern among manufacturers in Europe, who fear they will find it difficult to compete in energy-intensive sectors. The British government set out an attempt to launch its own shale gas industry last week to help revive the moribund economy.
Sully the Reindeer
Airlines are up 30%+ YTD. Capacity additions have been quite subdued in the last 6 years so this, combined with continued growth in demand, has led to rising yields in 4 of the last 6 years, which is unheard of in U.S. aviation. If you are upset at always having someone sit in the middle seat next to you, buy some airline stocks and you can at least smile while you feel like a sardine.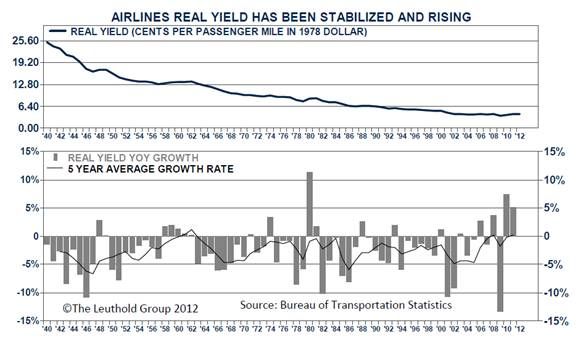 Felix the Reindeer
Thanks to Felix Baumgartner, the Curiosity Rover, Oscar Pistorius, Elon Musk, and all of NASA for getting kids to think big again about Science and Math. It was a really great year for Geek Dads and Moms to talk science with the family at the dinner table. (And I know many of those same parents who have their orders in for their Tesla Model S. Hey, it is a two trunk, four door, family car that rips off the line. How can I disagree?)
(NASA/JPL-Caltech/Malin Space Science Systems)
(AP Photo/Anja Niedringhaus, File)
@ev: Have driven a Tesla Model S 50 miles now. It's clearly the iPhone of cars—by far the best car ever made.
(AP Photo/Chris Carlson, File)
From the 361 Capital family to yours, we wish you the happiest of holidays.
In the event that you missed a past Research Briefing, here is the archive…